Advisor News Insight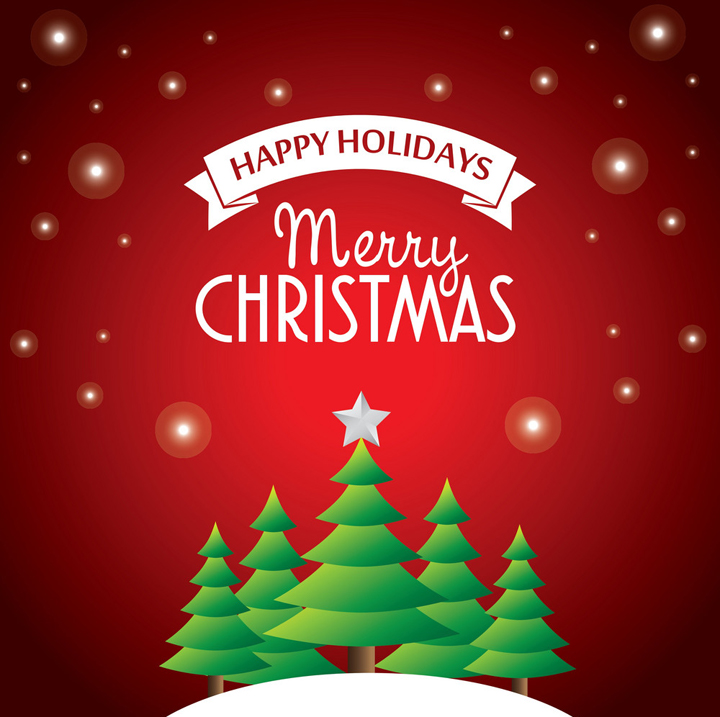 Happy Holidays & Merry Christmas
from All of Us at BEST!
INDUSTRY NEWS
2022 Tax & Social Security Guides
Our 2022 Tax & Social Security guides are now available. Please click on a button below to download a color and/or B&W version of the guides.
---
2022 Federal Income Tax Guide
Our Tax Guide contains tax information such as:
Individual income tax rates
Estates and trusts tax rates
Roth IRA contribution limits and much more...
Download the Tax Guide below:
2022 Social Security & Medicare Reference Guide
Our Reference Guide contains information such as:
Social Security income limits
Medicare Parts A-D deductibles and premiums
Medicare surtaxes and much more...
Download the Reference Guide below:
Education Planning
Grandparent 529 Plans Get A Boost From New FAFSA Form
By Robert Farrington, Senior Contributor at Forbes.
---
It's important for parents to understand how funds in a 529 plan can affect a student's eligibility for federal student aid — and how the owner of the account can affect the outcome. Funds held in a parent-owned 529 plan are listed as a parental asset, which hasn't changed. Up until recently though, 529 plans owned by grandparents were held to a different standard. Funds held by grandparents did not need to be listed on the FAFSA form, but any withdrawals from them used for college expenses needed to be listed as untaxed student income in the following year. Unfortunately, this later effect has been shown to reduce student aid eligibility by up to 50%. But, here's the good news: Recent changes to FAFSA rules will upend all of this for grandparent-held 529 accounts in the near future.
Estate Planning
Death Tax Is on Life Support, IRS Data Shows
By Jacquelyne J. Mingle, Partner at Fleming & Curti PLC.
---
Only 1,275 estate tax returns were filed in 2020, resulting in $9.3 billion in tax revenue... As recently as 2018, the amount collected was more than twice that, $20 billion, with 5,500 returns filed.
Medicaid Planning
2022 SSI and Spousal Impoverishment Standards
---
CMCS Informational Bulletin provides an update on the 2022 Supplemental Security Income (SSI) and Spousal Impoverishment Standards. Certain Medicaid income and resource standards are adjusted beginning each January in accordance with changes in the SSI federal benefit rate (FBR) and the Consumer Price Index (CPI).
NAELA News 50 State Medicaid Chart
---
This chart from the National Academy of Elder Law Attorneys (NAELA) will serve as a valuable reference tool for advisors and attorneys to use in cross-border Medicaid planning for their clients with interests in multiple states. It provides an easy way to compare Medicaid planning strategies, eligibility limits, and common elder planning/Medicaid planning across state lines.
Medicare Planning
Medicare Part B Premium Jumps 15%
By Ricardo Alonso-Zaldivar, Health Care Reporter at the Associated Press.
---
Remember last month when SSA announced the 2022 COLA-maybe not groundbreaking, but a nice "raise" for beneficiaries. Well, what SSA gave, Medicare takes away, with their announcement regarding the 2022 premium. Alzheimer's drug cited as Medicare premium jumps by $21.60 explains that Medicare's "Part B" outpatient premium will jump by $21.60 a month in 2022, one of the largest increases ever. Officials said Friday a new Alzheimer's drug is responsible for about half of that. The increase guarantees that health care will gobble up a big chunk of the recently announced Social Security cost-of-living allowance, a boost that had worked out to $92 a month for the average retired worker, intended to help cover rising prices for gas and food that are pinching seniors.
Retirement Planning
The State of Retirement Income, Safe Withdrawal Rates
By various authors at Morningstar.
---
The safe withdrawal rate is now 3.3%, writes Morningstar Director of Personal Finance Christine Benz. But she adds that retirees could withdraw as much as 5% a year if they obey certain rules and accept certain risks.
Practice Management
House Approves Financial Exploitation Prevention Bill
By Ted Godbout, Writer/Editor at American Retirement Association.
---
The House of Representatives approved bipartisan legislation last week that would give the financial industry better tools to address suspected financial exploitation of seniors. H.R. 2265 would address suspected financial exploitation and abuse of seniors by codifying an SEC "no action letter" by amending the Investment Company Act to allow a company or agent of the company to postpone a payment or redemption of security if it was reasonably believed that such redemption was requested through the financial exploitation of a security holder.
ASSUMED FEDERAL RATES (AFRs)
§7520 Rate for December is: 1.6%
Break down: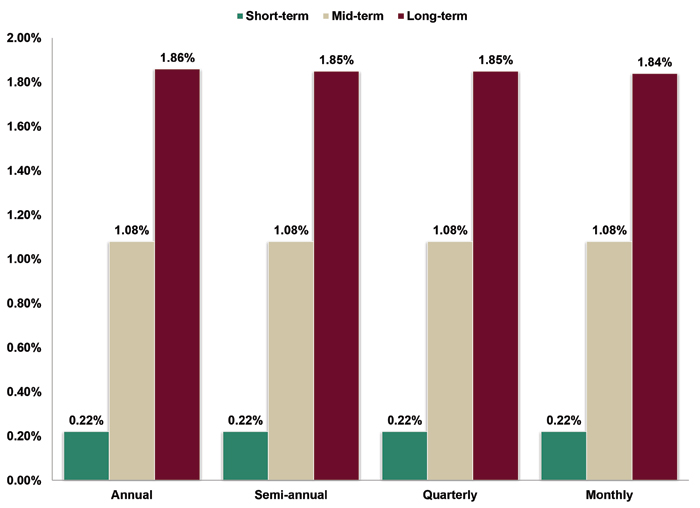 FINANCIAL FACTS OF THE MONTH
Cheaper
Source: U.S. Department of the Treasury
---
The average interest rate that the government pays on its interest-bearing debt as of 9/30/21 was 1.605%, down from 2.492% as of 9/30/19, allowing the USA to borrow 55.3% more money today than it borrowed 2 years ago and still have the same out-of-pocket interest expense cost.
Hitting Bombs
Source: PGA
---
61 PGA golfers averaged at least 300 yards for "driving distance" during the 2020-2021 wraparound season, topped by Bryson DeChambeau's record setting 323.7-yard average. 20 years ago (2001), just 1 golfer (John Daly) averaged more than 300 yards per drive.
Just Five Surplus Years
Source: U.S. Department of the Treasury
---
The budget deficit for the United States in fiscal year 2021 (i.e., the 12 months that ended 9/30/21) was $2.772 trillion. The U.S. has run a budget deficit in 56 of the last 61 fiscal years, i.e., 1961-2021. The only surplus years were 1969, 1998, 1999, 2000 and 2001.
May I Ask You?
Source: Department of Health & Human Services
---
The HIPPA Privacy Rule (Health Insurance Portability and Accountability Act) was enacted in 1996 or 25 years ago. HIPPA does not prohibit a business from asking an employee if they have received a COVID-19 vaccine, but it does regulate how and when a business may use or disclose information about an employee's vaccination status.
Same for You?
Source: Federal Reserve System
---
The total household net worth in America is up +47% in the last 4 years and is up +89% in the last 8 years. The total US household net worth was $74.8 trillion as of 6/30/13, was $96.2 trillion as of 6/30/17 and was $141.7 trillion as of 6/30/21.
Up and Down
Source: Bureau of Economic Analysis
---
The nation's personal savings rate, which soared during the early months of the pandemic, has now fallen back to its pre-pandemic levels. The savings rate was 7.5% in November 2019, rose to 33.8% in April 2020, and now has come back to 7.5% in September 2021.
FEATURED COURSE
The Advisors Guide to Social Insurance Programs (2022 Edition)

---

The Advisor's Guide to Social Insurance Programs is an educational tool to help advisors through the maze of programs, rules and regulations that affect many if not all of their aging Baby Boomer clients, their spouses and dependents. The course is broken down into three sections to give the advisor an understanding of the various benefits of the Social Security, Medicare and Medicaid programs.
ADVISOR TOOLS
2022 Federal Income Tax Guide
Our Tax Guide contains tax information such as:
Individual income tax rates
Estates and trusts tax rates
Roth IRA contribution limits and much more...
Download the Tax Guide below:
2022 Social Security & Medicare Reference Guide
Our Reference Guide contains information such as:
Social Security income limits
Medicare Parts A-D deductibles and premiums
Medicare surtaxes and much more...
Download the Reference Guide below:
Financial / Insurance Calculators & Websites
An extensive list of online calculators and informational websites.
REQUIREMENT UPDATES
View updates by state, CE requirements and more by clicking on the link below.
BEST CE PROGRAMS
Online CE Courses
At BEST we provide you with a lot of CE credit. Courses are cost-effective, updated annually and nationally approved for state insurance and professional designation credits (CFP, CIMA, CPWA and RMA). Our CE courses are specifically designed for quick completion and include:
Self-paced courses
Unlimited retakes of review questions and final examinations
Instant grading
Course material accessible for up to six (6) months from date of purchase
Excellent customer support team
CFP/CIMA/CPWA/RMA Ethics CE 2-Hour Live Webinar
"Ethics CE: CFP Board's Revised Code and Standards:
Ethics for CFP Professionals"
(CFP Course#: 277681 | CIMA/CPWA/RMA Course#: 21BEST011)
Earn two (2) credit hours of CFP and/or CIMA, CPWA and RMA Ethics CE with NO EXAM!
("Investments & Wealth Institute® has accepted this CFP Ethics webinar for 2 hours of CE credit towards the CIMA®, CPWA® and RMA® certifications.")
WEBINAR DOES NOT INCLUDE STATE INSURANCE CREDIT!
*PAYMENT OPTIONS:
CFP ONLY license: $49.00
CIMA, CPWA AND RMA ONLY license: $49.00
CFP WITH CIMA, CPWA AND RMA licenses: $49.00 plus an additional fee of $25.00
NOTE: Attendees MUST participate in all exercises and polling questions during the webinar. Credit received for attendee time logged and participation, NO EXAM at end of webinar. (A $10.00 cancellation fee will apply for all refunds requested.)
Self-Study CE Course List
As a top-notch continuing education provider we:
Deliver CE to financial and insurance advisors
Offer up‑to‑date and industry pertinent CE courses that maximize credits
Provide ClearCert certified long-term care and annuity training CE courses
Supply CE courses that are approved in all 50 states and the District of Columbia
DISCLAIMER
Reproductions of our Advisor News Insight newsletter are prohibited unless you have received prior authorization from Broker Educational Sales & Training, Inc. (BEST), but you are free to email this copy (in its entirety) to colleagues.
This newsletter may not be posted to any website without written consent.
This newsletter is a digest of information published by a variety of web-based sources and is published as a service to our users. BEST is not the author of the material unless specifically noted.
Articles are copyrighted to their publishers. All links were tested before this newsletter was emailed to ensure that they are still functional, but publishers move and/or delete articles. Therefore, we cannot guarantee that the links provided will remain operational.
BEST does not endorse and disclaims any and all responsibility or liability for the accuracy, content, completeness, legality, or reliability of the material linked to in this newsletter. Reliance on this material should only be undertaken after an independent review of its accuracy, completeness, efficacy, and timeliness. Opinions expressed are those of the author of the article and do not necessarily reflect the positions of BEST.
THIS NEWSLETTER IS PROVIDED FOR INFORMATIONAL PURPOSES ONLY AND
DOES NOT CONSTITUTE INVESTMENT, TAX, ACCOUNTING OR LEGAL ADVICE.
INFORMATION
© 1986 - 2021 Broker Educational Sales & Training, Inc. All Rights Reserved.

7137 Congress Street, New Port Richey, FL 34653

Hours of Operation: Monday - Friday, 8:30AM to 5:00PM Eastern Time Zone
SERVICES
UNSUBSCRIBE* | ABOUT BEST | CONTACT US | PRIVACY POLICY | REFUND POLICY
*Unsubscribing? Please allow one (1) business day for removal.
Ensure newsletter delivery to your inbox by adding newsletter-owner@best-ce.com to your address book.